---
CUNY Wins Two National Awards for Advancing Solar, Solar+Storage
San Francisco| Sustainable CUNY of the City University of New York, as lead of the NYC Solar Partnership, accepted the Interstate Renewable Energy Council (IREC) 2017 3iAward State and Local Government Achievement of the Year for its work to advance solar in New York City. This is the second recent national recognition for Sustainable CUNY which will also receive the Visionary of the Year award in Washington D.C., from the Smart Electric Power Alliance (SEPA) for CUNY's Smart DG Hub: a collaborative effort with New York State and City agencies, utilities, and industry to integrate solar+storage into the New York infrastructure.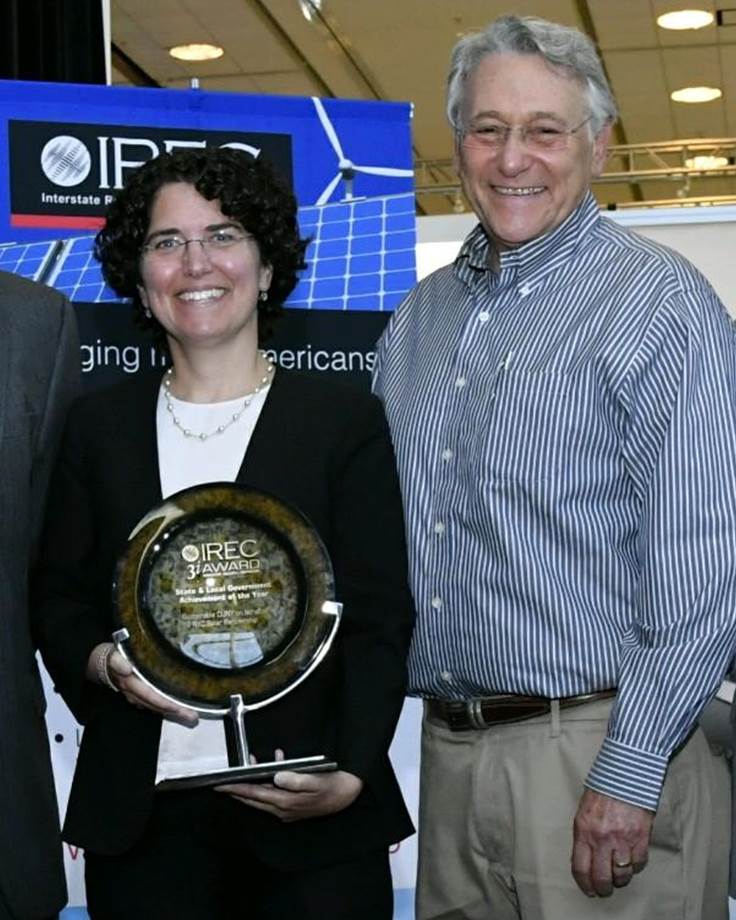 The IREC 3iAwards honor innovation, ingenuity and inspiration from the nation's best in both renewable energy and energy efficiency. The NYC Solar Partnership was formed over a decade ago with the City University of New York, the NYC Mayor's Office of Sustainability and the New York City Economic Development Corporation to remove barriers to solar in NYC. One City: Built to Last, released in 2014, introduced comprehensive climate goals that included support for the Partnership's continuing work of removing the soft costs of going solar, led by NY Solar Ombudsmen under the direction of Sustainable CUNY.
By 2016 solar capacity quadrupled in just two years, due in large part to the Partnership's work with regulatory agencies to streamline the installation process and lower costs, including the enactment of Professional Certification at the NYC Department of Buildings (DOB) that resulted in review time dropping from over 24 days business days to less than 24 hours. As a result of this growth, a new City solar target for 1,000 MW by 2030 was announced, and the City set its first energy storage deployment target of 100 MWh by 2020 to support resiliency during outages.
"Sustainable CUNY's role, as a trusted 3rd party has never been more important. Despite the ever-changing political and atmospheric climate, the demand for power is unabated. The NYC Solar Partnership is an ongoing strategic effort to work collaboratively with NYC and NYS agencies, Con Edison, the industry and other organizations to advance solar, and now solar+storage and helps address climate change," said Tria Case, the University Director of Sustainability and Energy Conservation. "The Chancellor of the City University of New York signed on to the 'We Are Still In' commitment to the critical goals of the Paris Climate Agreement.  The future of our planet depends upon the kinds of actions that our University, City and State are already taking to create a clean-energy future." 
"Solar energy in NYC is about more than just cheaper and cleaner electricity, it's a powerful emblem that illustrates our City's commitment to transition into a green economy and reduce greenhouse gas emissions 80 percent by 2050," said Mark Chambers, Director of the Mayor's Office of Sustainability. "Partnering with Sustainable CUNY and New York City Economic Development Corporation has been a crucial part of delivering on our progress to date and we applaud their efforts and well-earned recognition with these awards. We look forward to continued partnership as we work towards the goal of installing 1 gigawatt of solar capacity citywide by 2030."
"Supporting the deployment of solar energy is a clear win-win for New Yorkers. In making clean energy more accessible and affordable, we're creating good jobs and supporting an emerging sector of our economy." said James Patchett, President of the New York City Economic Development Corporation. "I am proud of the progress the Partnership has made as it continues to deliver on creating a more sustainable and equitable city." 
As the cost of going solar in NYC has come down, it has become more attractive to a variety of communities. As such, the Partnership established a gateway web platform for two new programs: Solarize NYC and Shared Solar NYC (community shared solar). These programs seek to provide opportunities for all New Yorkers regardless of homeownership. In parallel, the Partnership worked with CUNY's Smart DG Hub to produce guides for adding storage to solar in NYC, mapping these systems on the NY Solar Map and Portal, and outlining the way to larger scale storage adoption. 
Additionally, Sustainable CUNY's Solar Ombudsmen provide training to City employees and throughout the state via the New York State Energy Research Development Authority (NYSERDA) supported PV Trainers Network and have begun workshops throughout the five boroughs that educate the public on solar, and the opportunities through Solarize NYC and Shared Solar NYC. Sustainable CUNY also works regularly with the Fire Department of New York (FDNY) and the NYC DOB to develop guidelines to clarify how solar and now solar+storage can be safely installed within the requirements of the New York City Codes. Resources 
BY the Numbers:
At the beginning of 2014, there were 24 megawatts of solar installed in NYC representing 1037 installations. NYC has now surpassed 110 MW of solar capacity, representing 9,700 individual installations.

The cost per watt of installing solar in NYC has dropped from $5.06/Watt in 2014 to $4.32/Watt by the end of 2016.

A decade ago there were only five installation companies in NYC, now there are over 60 installation companies employing over 2700 people. 
CUNY is SEPA's Visionary of the Year for Work to Integrate Solar+Storage in NYC
The Smart Electric Power Alliance (SEPA) announced that Sustainable CUNY of the City University of New York will receive it's Visionary of the Year award at the end of July in Washington DC for CUNY's Smart Distributed Generation (DG) Hub. Sustainable CUNY formed the Hub in the aftermath of Hurricane Sandy to help provide resiliency to NYC by developing a streamlined process for integrating solar+storage into the infrastructure and the grid. Working collaboratively, the Hub has already developed significant resources, including a NYC Energy Storage Systems locator on the NY Solar Map and Portal (also developed by Sustainable CUNY). The award will be presented in Washington DC at the end of July. Media Release