---
Electric Grids 101
Con Edison provides electric service to 3.2 million consumers in New York City and portions of Westchester County. Electricity is delivered through approximately 94,000 miles of underground cable and almost 37,000 miles of overhead cable.
There are two types of electric distribution grid systems, radial grids and network grids.
Radial grids traditionally have a single high voltage cable, often referred to as a feeder, sending energy from the substation to numerous distribution transformers tapped at various points along its length. The distribution transformers step the voltage down from high voltage (primary) to low voltage (secondary) electricity and typically serve anywhere from 1-16 customers each. Cables and transformers on radial grids are often above ground as seen predominantly in areas like Staten Island or Westchester.
Con Edison uses a reliable type of radial grid called an "auto-loop." An auto-loop typically has two feeders, two additional backup feeders, and automatic switches at various points along the feeder run. This means that a problem on the feeder affecting one point on the auto-loop can be isolated quickly, minimizing the number of customers affected by a problem on their radial.
Network grids have multiple primary feeders feeding several network transformers tied together in parallel on the secondary side to feed energy into a low voltage grid (area network type) or local building bus (spot network) where the consumer is connected. Thousands of low voltage customers are served off the low voltage grid of an area network. Cables and transformers on network grids are typically below ground and are used in densely populated areas. Network grids are used extensively throughout Manhattan, Brooklyn, Queens and the Bronx, with a few small network grid areas in Staten Island and Westchester.
Network grids are considered more reliable than radial grids as there are redundant sources of backup power in case of failures on the grid. Additionally, with cables and transformers mostly underground, network grids tend to be less prone to outages resulting from severe weather conditions than above ground radial grids. Network grids are more complex than radial grids due to the increased number of system components, the redundant cabling, and excavation associated with installing the systems.  
Spot networks are a special class of network grids where one or multiple transformers are dedicated to one, large energy consuming building like a skyscraper. A spot network is essentially a small network grid that is implemented for a single large user.
The considerations for implementing large PV systems on network grids and spot networks are different than for radial grids. For example, if one of the primary feeders supplying a portion of the network grid's transformers were to experience an outage, the parallel connected secondary grid will try to provide power into the dead feeder. As such, these transformers are designed with an automatic switch, known as a network protector, which will open when energy feeds back from the low voltage bus toward the high-voltage feeder outage. This is the same condition as when a large PV system provides more power into the area network grid or spot network than there is load to serve. While Con Edison's dense network grid system typically has enough load to "soak up" exported power the electric system can be adversely affected by back-feed of power.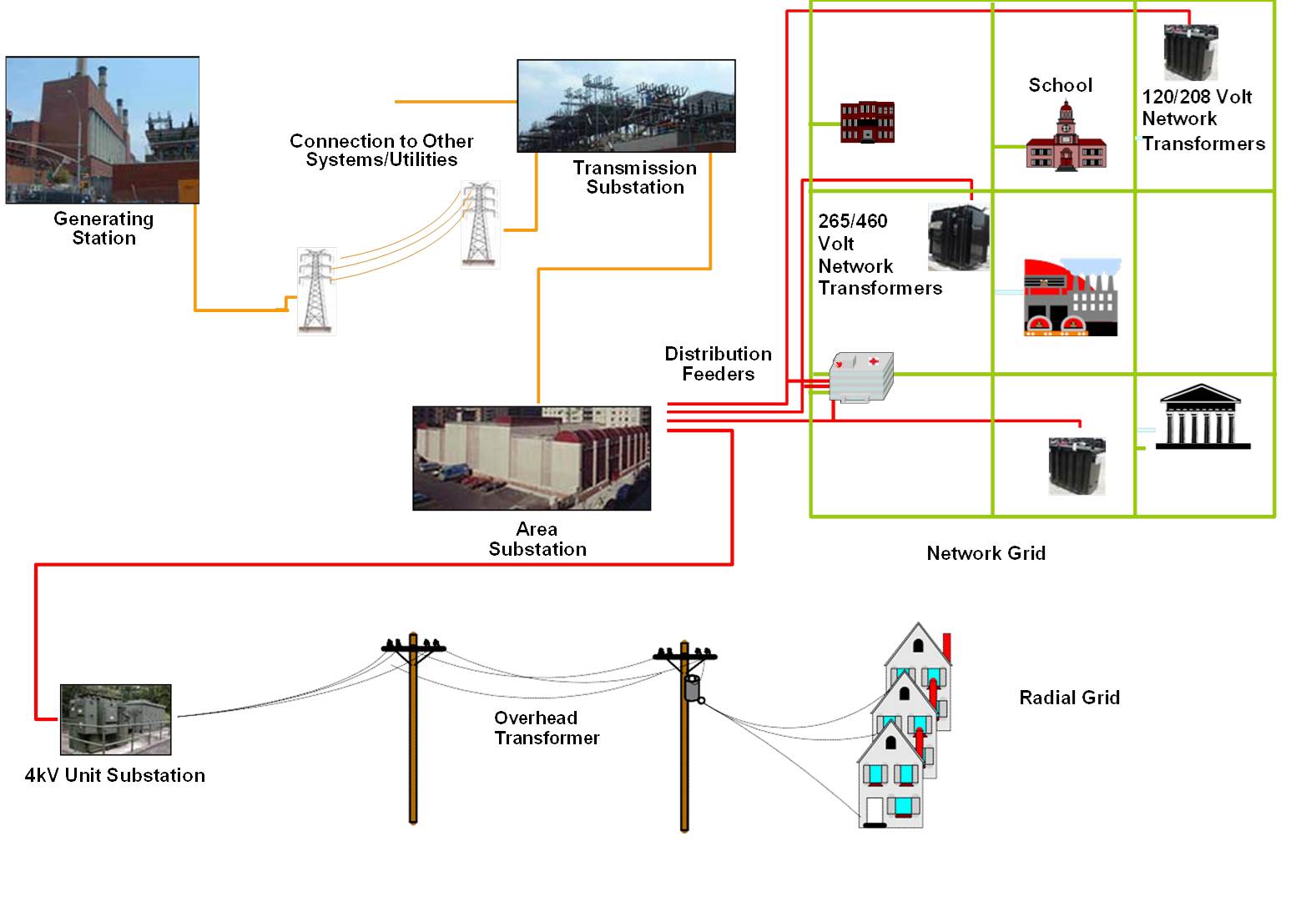 All interconnection applications are submitted online via Con Edison's Project Center. Con Edison requires that all documents listed in the NYS Standardized Interconnection Requirements (SIR) be submitted before a project can be reviewed. Con Edison Required Forms
Taking the following steps can help speed up your application review:
Include accurate account and meter numbers
Make sure name on application matches name on account
Include accurate customer email addresses
Include Con Edison service information in your drawings
Make sure information is consistent in all forms and documents
Customer requested outages (to de-energize the service to connect PV system equipment to the existing switchgear, for example) and any inspections required by Con Edison will be provided at no cost to the customer during normal business hours (Monday – Friday, 7:00am – 3:00pm excluding holidays). However, it is important to note that the cost of any portion of a customer requested outage that is completed outside normal business hours will be the responsibility of the customer and will include applicable overtime rates. Con Edison Solar Guide